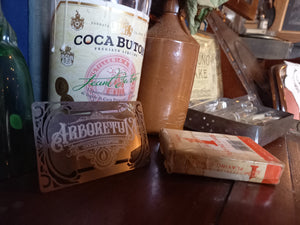 Secret Society Membership Presale
---
Here we have a very special opportunity, for those that are particularly passionate about our space.
For a one-time purchase, you will receive a solid metal card that entitles you to life-long membership in to our Secret Society. This is, for all intents and purposes, our version of a VIP status, only with much more perks.
We do not do bookings in the shop usually, but this card will allow you to reserve seating when you plan on arriving, ensuring that you are always going to fit in - even on Saturday evenings. Not only this, but you will receive 20% off all drinks purchases in our shop, for life, and be informed of any of our new ventures before anyone else.
These are deliberately a very limited run, so don't hesitate - or they might not be available when you come back. 
Come be part of our Secret Society; the most exclusive of people, inside of the most exclusive bar in Norwich.
Huzzah!
Please note, these are currently available for presale. Your benefits will activate as soon as you have purchased a card, and are redeemable by quoting the name placed on the order when booking or requesting discount in store. The physical cards themselves will be shipped late July, when they arrive from the printmakers.